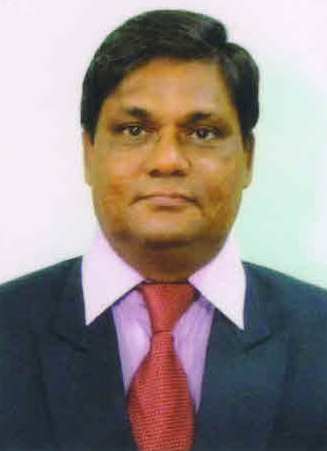 Hon'ble President, Other members of the college Governing Body, Teaching & Non–Teaching staff, respected members of Bankura Sammilani Trust Body, Alumni members, and my beloved students of the college, we are happy to announce that we have already passed long 72 years since the establishment of this college on 1st Sept, 1948 and gradually proceeding towards Platinum Jubilee.
We started our sacred journey with a limited number of one hundred students (boys) only and six teachers in the intermediate science stream. A small plant which was sown about 72 years ago (as on 01.09.1948), has developed into a giant tree with its different branches. The number of students of our college at present is three thousand (approx) and Teaching Staff with 43 Permanent full time, 15 Part Time Teachers (PTT), 04 Contractual Whole Time Teachers (CWTT), 24 guest lecturers, 06 full time Permanent Non-teaching Staff, 02 Permanent hostel staff, 46 Non-Teaching Contingency Staff, 07 Hostel Contingency Staff.
Initially the college was under the Bankura Sammilani Trust Body. This trust had been formed in the year 1911, under the presidentship of Justice Digambar Chattopadhyay, Co-Presidentship of Ramananda Chattopadhyaya, the editor of "Prabasi Patrika", Rishibar Mukhopadhyay, Bholanath Bandyopadhyay, Hemanta Kr. Raha, Bamapada Roy and secretaryship of Rishindranath Sarkar. The main motto of this trust was to serve the people of Bankura, a backward area specially in the fields of Education, Health, Culture etc and during the periods of natural calamities.
With this mission in view Bankura Sammilani Medical School had been established in the year 1922, at our old settlement building and subsequently Bankura Sammilani Medical College had been established on 6th August, 1956 with only 50 students, Bankura Sammilani Blind School on 20th November, 1994 with only 5 students and certainly ours, the Bankura Sammilani College on the aforesaid date. It is a matter of great pride that many great luminaries visited the Sammilani Medical School. which was located at our old College-building. Acharya Prafulla Ch. Roy, when he visited this school in 1924 was overwhelmed and quoted his inspiring words on the self styled activities of Bankura Sammilani: "It is the first stepping stone to swaraj in our country". Other luminaries who also inspired the activities of the trust in different ways, were Mahatma Gandhi in 1925, Lord Lytton in 1927, Sir John Anderson in 1935, Rabindranath Tagore, on 03.03.1940, Netaji Subhash Ch. Bose on 27.04.1940, Sir John Herbert in 1940 Shyamaprasad Mukhopadhyay in 1941, Maulana Abul Kalam Azad in 1945, Dr. Kailash Nath Katju on 17.01.50,. We feel proud of the prestigious legacy of 'Bankura Sammilani' family.
The college was initially affiliated to the University of Calcutta since 06.08.1948 and later on it was shifted to the University of Burdwan in 1960. The Status from the trust College to the Govt.–aided one had been made on 22.04.1977 and from Boys to co-education status in 1992-93, (at degree level) in 1993-94 at H.S. level.
The different streams and courses were run in two shifts. Intermediate commerce was introduced in 1958, B.Com in 1959 in the evening shift, B.Sc. in 1959(Day), B.A. in 1970 (Morning). During that period on account of huge demand from the students an additional shift in commerce was opened in 1971 in the morning shift. But after the Co-education status being introduced all the B.Com courses were shifted to the morning, whereas, the B.A. Courses were shifted to Day on and from 08.02.1991. Since then B.A., B.Sc Courses are being run in Day Shift and B.Com Courses in the Morning Shift.
At present, 17 Honours Courses and 18 Programme courses are being taught at the undergraduate level in all the 3 streams of Arts, Science and Commerce. Whereas, post graduate courses have been introduced in English and Chemistry since the year 2018 and 2019 respectively.
We are proud of our students who have already passed from our institution and have got themselves established in different fields at home and abroad. Some such distinguished personalities and Honorable Alumni for whom we feel proud, may be mentioned as follows: -
Dr. Chittaranjan Dutta, The ex-principal of this college, Dr. Ranajit Banerjee, ex-Principal, Bhupendranath, Dutta Smriti Mahavidyalaya, Hatgobindapur, Dr.Murari Mohan Roy, ex-Associate Professor in History of this college, Shri. Amiya Patra, Ex-MLA,Bankura, Shri.Kamal Goenka, Member, Board of Directors, Usha Martin, Dr. Soumitra Sarkar, Principal, Joypur Panchanan Roy College, Amta, Howrah, and Chairman WBSSC, Dr. Shaikh Sirajuddin, Principal, Saldiha College and Chairman West Bengal School Service Commission (Western and Northan Zone) Dr. Padmanava Chakraborty, ex-Dean, Faculty of Science, University of Burdwan, Shri. Arunava Patra, Chartared Accountant, Bankura, Dr. Debasish Banerjee, Associate Professer in Chemistry, Christian College Bankura, Shri. Kalyan Banerjee, M.P., Rabilochan Bangal, NTPC, Dr. Sanjeeb Chattopadhyay, Principal, Panchakot Raj College, Purulia, Shri Mahaprasad Sengupta, Chairman, Bankura Municipality, Shri Dilip Agarwal, Vice-Chairman, Bankura Municipality etc.
We are also proud of those students who have topped the list of successful candidates at the University Examinations at both Graduate and Post Graduate levels at different times. Some are worth mentioning like Sri Suman Karmakar scoring the highest marks in Botany (B.Sc.) in 2003, Ms. Chandralekha Dutta in Microbiology in 2006 (B.Sc.) and in 2008 (M.Sc.), Shri Suman Sengupta in Economics in 2006, Shri Tapobroto Mitra in Chemistry in 2006 (B.Sc.) and in 2008 (M.Sc.), Shri Gourav Banerjee in Mathematics.in 2006, Shri Bhaskar Ch. Sarkar in Mathematics in 2008 (M.Sc.), Shri Santanu Nayek (BA General Stream) in 2006, Ms. Neha Bajoria (B.Com.) in 2009, Shri Suman Rakshit in Mathematics in 2012, Shri Moloy Maji in Nutrition Science and Ms. Ipsita Roy in Microbiology in 2013, Ms. Shilpa Mondal in Nutrition Science in 2014, Shri Sayan Karmakar in Botany in 2015, Shri Haradhan Ghosh in Mathematics in 2017 etc.
Our College has been accreditated by NAAC on 8-10 Sept, 2016 (2nd Cycle) with the gradation of B+. On the basis of valuable suggestions from the NAAC peer team, we have already made internet Connections with all the departments of our college, we have started imparting Remedial Coaching, Coaching for entry into services like S.S.C., W.B.C.S., Banking Examinations etc. to the students Specially of SC/ST/OBC/Minorities categories.
University Grant Commission had sanctioned fund for this purpose. Even U.G.C. had sanctioned stipend to our poor and meritorious students. We have started Spoken English classes for our students under the supervision of our expert teachers the British Institute (Bankura Branch), BBC, London and Mary Corbin Smith, Florida, USA to make them competent for the different competitive examinations. Computer literacy being an essential part at modern age we have entrusted Webel Informatics Ltd. to make our students well-versed with Computer education along with their normal courses of studies since the year 1996. The students getting passed with different diploma and certificate courses from this Computer centre are being absorbed in different fields of job. We are also rendering our students the opportunities for pursuing different courses under ICWAI (Institute of Costs and Works Accountants of India), Durgapur Chapter extension centre at our College since March'2009 as well as under NPTEL.
An Australian Study Centre has been opened after the introduction of PG Courses in English since 2018. MoU agreement has already been made with the Wollongong University, Australia since 2015 under the vibrant leadership of Prof. Debnarayan Bandyopadhyay, Hon'ble Vice Chanceller, Bankura University and Prof. Paul Sharaard, Wollongong University.
Research activities in our chemistry department as being conducted by Dr. Samaresh Ghosh, and Shri Shantanu Hazra, Associate Professors in Chemistry Dr. Susovan Bhowmik, Dr. Sabir Ahammed, Assistant Professors and Shri Swapnadip Roy, PTT in Chemistry, the same as conducted in our Bengali department by Dr. Arunava Chattopadhyay are really worth mentioning and encouraging to all the staff, students of our college. UGC sponsored National level Seminars are organized by the different departments and IQAC of the college. Our College library with total number of books 52,175 as on 01.10.2019 having Internet set up is our pride.
In the field of Games and Sports our College Students are regularly participating in the University sports including Football, Cricket, Volleyball, Badminton etc. Our Cricket team was enlisted in Cricket Association of Bengal among 3 selected colleges under the University of Burdwan in the year 2010. The college GYM as made from the local MLA fund, is an asset for the students and staff of the college, where they regularly practice physical exercises for strong and healthy body and mind.
Our NSS activities are being conducted efficiently with 03 units. Regular Blood donation Camps, Special Camps, Literacy Programmes, environment cleaning programmes, water and health management programmes are being held on regular basis by our students under the supervision of Present In-Charges, Our Students are afforded Hostel facilities in Rabindra Chatrabus (Boys) with Capacity of 40, which is solely meant for SC/ST categories of students, in Sanhati Chatrabus (Boys) with capacity of 42 meant for other categories of students, whereas in 'Maa Sharda' Girls Hostel (as sponsored by the University Grant Commission) with the Capacity of 100 meant for girls students only.
Although we have been facing enormous trouble and many ups and downs on our way in smooth running of the college we are trying our best to impart quality teaching to our students. All our teaching staff are sympathetic to our students and encouraging healthy interactions relating to their studies, taking regular class-tests thus engaging themselves in constant efforts of maintaining an educational environment. Even we feel proud to mention those teaching staff who have introduced Scholarships by the names of their relatives to our meritorious students in different subjects every year, thus encouraging them to make better results. Some such scholarships worth mentioning are as follows:-
Debesh Banerjee Merit Scholarship for scoring highest marks in Part-I (Hons & Gen) Final Exam, Debi Bhusan Bhattarcharya Merit Scholarship for Pol.Sc. (Hons.) Part- I Examination, Ava Das Merit Scholarship to best singer, Chandi Charan Batabyal Memorial Scholarship for Part-I/Gen Examination, Kalipada Sarkar Memorial Scholarship for Mathematics (Hons.) Examination Part-I, Durga Prasanna Mukherjee Scholarship for highest score in University B.A./B.Sc. Part – I & Part – II (Combined) Economics Hons. Exam, Suniti Mukherjee Scholarship for highest score in University B.Com Part – I & Part – II (combined) Accountancy Hons. Exam, Gopal Gobinda & Aloka chatterjee Scholarship for highest score in the University B.Sc. Part – I & Part – II (combined) Physics (Hons.) Examination, Kalipada Smriti Tirtha Smarak Puraskar' for highest score in the University B.A. Part – II Sanskrit (Hons.) Examination, Radha Binod Das Scholarship for highest score in the University B.Sc. Part – III Chemistry (Hons.) Examination..In addition to the above Bankura Sammilani College Employees co-operative credit Society also has introduced Merit Scholarship to the Students scoring highest marks in Part-I (Hons. & Gen) Final Examination.
Some other scholarships which enormously benefit our students as introduced by the State Government and different organizations and their respective number of beneficiaries during the Academic Year 2019-20 are as follows:- (1) Swami Vivekananda Merit cum Means scholarship (537),(2) Kanyashree Prakalpa (Only for girl students) (258) (3) SC/ST/OBC Scholarship (1037), (4)Minority Scholarship (79), (5)National Scholarship (232) (6) Samajik Suraksha Yojona (61) (7) Chief Minister's Relief Fund (123) (8) Rashtriya Sanskrit Sansthan (Deemed University) for Sanskrit students only. (24)(9) Jindal Scholarship (20) (10) Dr. Maitrayee Chakraborty Charitable Trust (04) (11)Sri Ramkrishna Seva Kendra Scholarship (33) (12) India Bulls Foundation (03) (13) Scholarship for Handicapped students (04) (14) Priyambada Birla Scholarship (23) (15) J.M. Setia Charitable Trust Scholarship (12) (16) Inspire Scholarship (35) (17) Vivekananda Foundation (02) (18)Anant Education Initiation (03)(19) Anirban Sarkar Smriti Trust (02) (20) Sylhet UnionTrust Memorial Scholarship (01) (21) HDFC Bank (01) (22) Insdustrial Foundation (01) (23) Students' Day Home (10)
With the financial assistance from the Higher Education Department, Government of West Bengal the college has been able to develop one virtual class room for our students and is in the process of renovating our Auditorium at the ground floor of APC Roy Block of the college.
A language laboratory has also been set-up from our college fund and the same is being utilized for learning different languages.
Considering the difficulties of the students of the remote areas in respect of their transportation, the college has been rendering the hostel facilities to them. Rabindra Chatrabus with its seat capacity of 42 is meant for only SC/ST students (Boys). Sanghati Chatrabus (Seat capacity 42) is meant for other categories of students (Boys). Similarly, 'Maa Sarada' Hostel with seat capacity of 60 (at this moment) is meant for Girl students only. Proper safety measures have been taken for our hostel students with an echo-friendly ambience. Anti –Ragging cell of the college keeps constant watch, so that any kind of untoward incident does not occur in the hostel campuses as well as in the college campus.
At present, college is in dire need of class rooms to accommodate the huge number of students.
After the NAAC Accreditation (2nd Cycle) we have received a fund (RUSA 2.0 Fund) of Rs. 1.00 crore from RUSA (Rashtriya Ucchhatara Siksha Aviyaan) in the year FY 2018-19 out of total allocated fund of Rs. 2.00 Crore for this college. Renovation of our old Zoology building has already been made from this fund. A major plan of construction of a new building complex has already been made from this RUSA 2.0 fund through the involvement of Social Sector, Bankura Division P.W.Dte. at the location near our 'Maa Sarada' Girls Hostel of the college. Similarly, construction of new rooms of the 2nd floors on NAAC Building and Bibekananda Block have already been completed from the UGC fund along with college fund. To cope with increasing number of students some positive steps have already been taken by the college Governing Body by increasing the number of classrooms on 1st floor of 'Krishna Chandra Roy' Block, 2nd floors of Rabindra Block, Old Zoology Building and Nutrition Science Building (1st & 2nd Floors).
Set up of Rain water Harvesting System of the college as funded by the West Bengal Government (Irrigation Department ) is another positive step taken by the college to comply with the State Government Policy "Jal Dharo Jal Bharo".
Solar plates have been set up on the roof of the library building, so that, the college campus gets sufficient light from solar system thus taking a positive step towards minimizing energy consumption..
For all these works with a broader scale we need sufficient fund. U.G.C, State Government, & other Sources also are being approached for these purposes. Many more problems of the college are there to be solved gradually with cordial co-operation from all angles like Teaching, Non- Teaching Staff, Students, Guardians, Political leaders, Educationists, local administration.
The manifold activities of the college like on-line Admission of students, Payment of monthly salaries for the college staff (Permanent) through HRMS, e-pension introduction, Regular Auditing, Introducing Biometric attendance system for staff are being performed complying with different Government orders and Bankura University guidelines as being circulated from time to time.
Some of the glorious achievements of our college are as follows:-
1) Dr. Samir Kumar Mukherjee, Principal of the college has been conferred 'Siksha Ratna Sanman – 2019' by the Higher Education Department, Government of West Bengal on 5th September 2019.
2) Dr. Surajit Majumder, Assistant prof. in Zoology and NSS Programme officer (unit-I) has been conferred NSS State Award 2013-14 in the best PO Category.
3) Dr. Anjan Kumar Sinha ex-Part-Time Teacher of this college had been conferred. Plant genome saviour Recognition Award in 2016 by Ministry of Agriculture and Farmers' Welfare, Government of India.
4) Some of our students have achieved NSS State Award in the Best Volunteer Category like i) Trisa Misra in 2013-14, ii) Bholanath Rajak in 2014-2015, iii) Soumitra De in 2015-2016, iv) Miss Tanushree Satpati in 2016-2017.
5) Miss Samapti Sinha Mahapatra acted as Participant of Indian Youth Delegation to Kazan, Russia during period from 04.07.15 – 06.07.15.
6) Shri Keshab Mishra acted as participant of Indian Youth Delegation to China during the period 02.07.19 to 09.07.19.
7) In recent years following are the students of this college who have got selected in National RD Parade, Delhi from our NSS Volunteers:- Miss Samapti Sinha mahapatra in 2014, Shri Raju Sahana in 2016, Shri Keshab Mishra in 2018, Shri Jatin Kalindi in 2019, Shri Subrata Mondal in 2020, and from our NCC cadats Miss Amina Khatun in 2017, Shri Sourav Mondal in 2019.
My cordial appeal to all the people of Bankura and all concerned to extend their helping hands in smooth running of the college, thus facilitating us in search for quality and excellence which will breathe to focus our mission of producing true men and women from our traditional Sammilani College Temple (of Bankura, West Bengal, India).
Thanking you all,
Dr. Samir Kumar Mukherjee, Principal